Welcome to Catofoods!
a little gist about us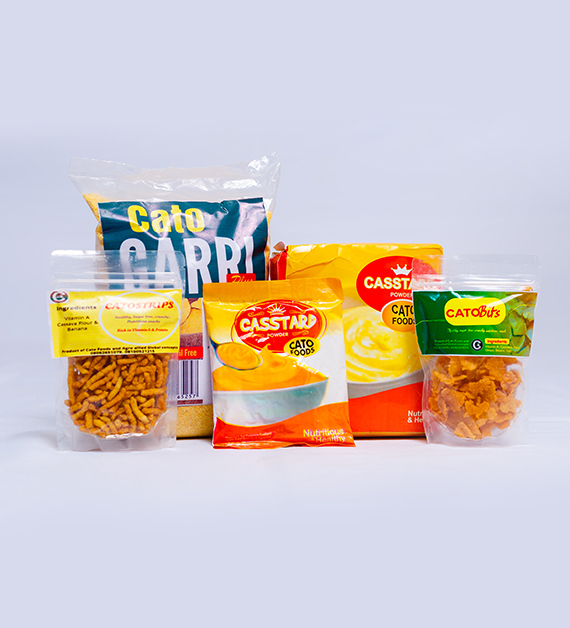 ABOUT US
CATO FOODS is a fast-growing innovative company that is dedicated to improving lives and livelihood of people through agricultural value-added leveraging on technology to scale up the production of our food products. We innovate new products, manufacture and distribute to our customers in Nigeria and International Market. These products are available, accessible and affordable.
Using bio-technology system to produce nutritious food products that are naturally rich in micro-nutrients especially Vitamin A to curb malnutrition especially in Pregnant women and Children under 5 because we believe agriculture and health has to meet at a point which is called NUTRITION. Hence, we constantly give ourselves to research and knowledge in making the daily living of man come with ease.
we also empower rural women and youths in the communities we operate whereby creating employment for them to increase their livelihood and that of their families because they are critical to food nutrition.
To be Africa's leading and reputable organization in addressing food insecurity and malnutrition through Agricultural value chain, innovative products development for sustainable development.
To build sustainable nutrition delivery linkages across the agricultural value chain

To ensure food security, job creation, poverty reduction, environment preservation and sustainable development in Africa through Agriculture, Agricultural value chain development, youth empowerment and post harvest waste management.

To ensure women and youth capacity building, empowerment and engagement by building today and tomorrow businesses along Agricultural value chain development.
One of our core objectives is to meet the need and demand to reduce hunger and hidden hunger (micro-nutrient deficiency) in Nigeria and Africa through Large scale production and distribution of different types and forms of High-Quality value-added. products.

To reduce Agricultural waste and Losses through post-harvest processing to ensure food security.


To reach the consumers with healthy, hygienic and nutritious staple foods by making it available, affordable and accessible.

To reduce unemployment by empowering and engaging women and youths in the area of capacity building through training in Agricultural Value chain and Agribusiness.

To reduce Agricultural waste and Losses through post-harvest processing to ensure food security.

To reach the consumers with healthy, hygienic and nutritious staple foods by making it available, affordable and accessible
The Cato Team
Highly Innovative and Intelligent